FAST AND RELIABLE INSTALLATION
Most Installations are completed within one day! Gives you more time to spend your day doing what you love!
QUALITY DURABLE PRODUCTS
We use premium premier polyaspartic for our base coat and top coat, which ensures top performance and protection.
LIMITED LIFETIME WARRANTY
Our limited lifetime warranty gives you peace of mind knowing that we've got you covered from the unexpected.
The Process…
After we receive the green light, our techs will come visit the project site and confirm flake color choices. Our team will then prep the site by cleaning any small debris, covering & taping off surfaces to ensure the rest of your property is protected and free of spills. Finally, we will begin our four-step process. Most installations take one day to complete, and after a brief 48 hours, you will be able to walk onto your brand-new floors!
MECHANICAL DIAMOND GRINDING
We use advanced Diamond grinding to remove a thin layer off the top of the concrete to ensure the base coat adheres properly.
SIGNATURE BASE COAT
Secondly, we begin coating the concrete with our first layer; Our base coat. Think of this as the "primer" before painting.
FLEXIBLE FLAKE DISTRIBUTION
Immediately after coating with the base coat, our team will generously apply our premium, flexible, vinyl flake throughout the surface and ensure there is even coverage, so there are no "bald" spots on your concrete floors.
DURABLE TOP COAT
Finally, we will begin prepping the surface for the top coat application, which involves scraping off any loose Flake. Our top coat will be evenly applied across the surface and just like that, you have your dream garage floors!

Why Coating Kings?
With 15 years of experience, our techs take pride in every installation they complete. Our number one goal is to provide our clients with top tier service, products, & installation experience. At Coating Kings, we only use premium quality products to ensure your floors do not fade, chip, flake, or bubble over-time. Give us a call today to schedule your FREE estimate.
GET A QUOTE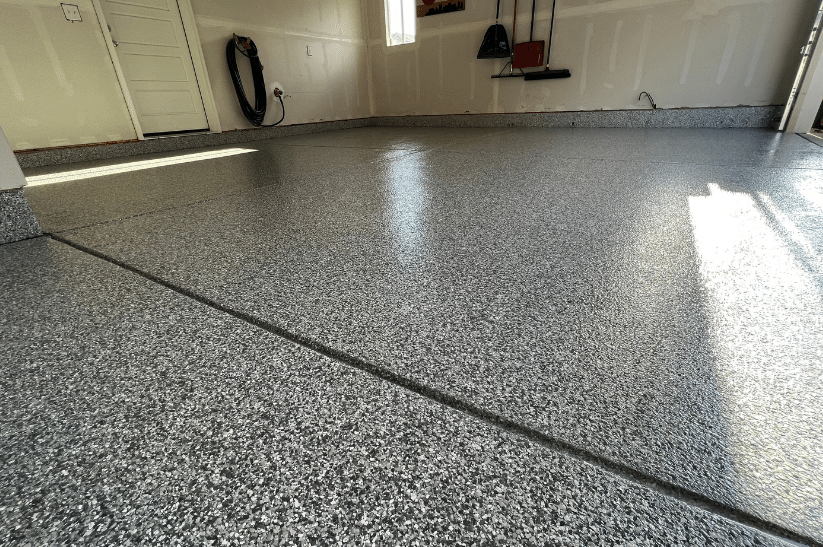 Completed installations
Years of experience
Satisfied clients
Schedule a FREE Estimate!